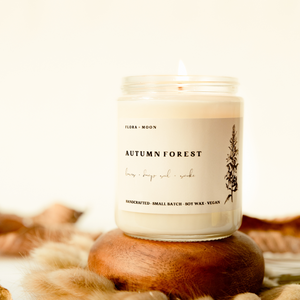 AUTUMN FOREST is the epitome of autumn in a candle. It is a hyperrealistic journey through the season, capturing even the essence of decaying leaves. It's not your typical fall scent; instead, it's a an authentic atmospheric experience. A true gem for those who appreciate the raw beauty of fall.
Top: Soil
Middle: Smoke, Petrichor
Base: Decaying Leaves
Made in Nashville, Tennessee using 100% soy wax derived from American-grown soy beans for an eco-friendly, clean burn. Our soy wax creates clean-burning candles that are free of toxins, carcinogens, petroleum + pollutants. We use lead-free, zinc-free cotton braided wicks that have been primed with vegetable-based wax for an eco-friendly, clean burn. Our candles are made using only premium grade fragrances + essential oils. We promise to never use additives, phthalates, dyes, or preservatives.
We package our candles with as little packaging as possible. No unnecessary boxes or bags will be in your box. Each glass candle is wrapped in recyclable paper and filled with either Kraft paper or biodegradable packing peanuts.
Flora + Moon is always vegan | sustainable | cruelty-free | eco friendly 
8 ounce candle:
Diameter: 2.88 in
Height: 3.5 in
Net Wt: 8 oz
Burn time: Up to 50 hours
16 ounce candle:
Diameter: 5 in
Height: 3.7 in
Net Wt: 16 oz
Burn time: Up to 80 hours
different in the best way - fresh and earthy
i adore this scent. there's a very upscale chandler in my area that used to make a candle called "forest floor" and this beauty from flora+moon is a good replacement. it's a scent that's hard to do well!
it truly smells like damp soil; fresh earth, with a slight bit of petrichor, but none of that cloying fake rain scent that gets added to these kinds of accords. for smelling like dirt, it doesn't smell dirty, and if you love natural smells like fresh lavender or mowed grass, i think this could become your favorite. it's cool and crisp, like a walk in the woods.