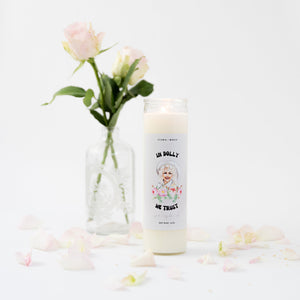 Ain't no doubt about it, y'all! In Dolly We Trust is your must-have! This candle brings the best of the south - peach, magnolia, and wood - and it's sure to give your space that royal flair like Ms. Dolly Parton herself! Get ready to transform your room like never before!
Top: Peach, Berry, Pineapple
Middle: Magnolia
Base: Wood
Made in Nashville, Tennessee using 100% soy wax derived from American-grown soy beans for an eco-friendly, clean burn. Our soy wax creates clean-burning candles that are free of toxins, carcinogens, petroleum + pollutants. We use lead-free, zinc-free cotton braided wicks that have been primed with vegetable-based wax for an eco-friendly, clean burn. Our candles are made using only premium grade fragrances + essential oils. We promise to never use additives, phthalates, dyes, or preservatives.
We package our candles with as little packaging as possible. No unnecessary boxes or bags will be in your box. Each glass candle is wrapped in recyclable paper and filled with either Kraft paper or biodegradable packing peanuts.
Flora + Moon is always vegan | sustainable | cruelty-free | eco friendly 
Diameter: 2.31 in
Height: 8.13 in
Net Wt: 14 oz
Burn time: Up to 80 hours